Our Vision
Why choose handloom made in Odisha?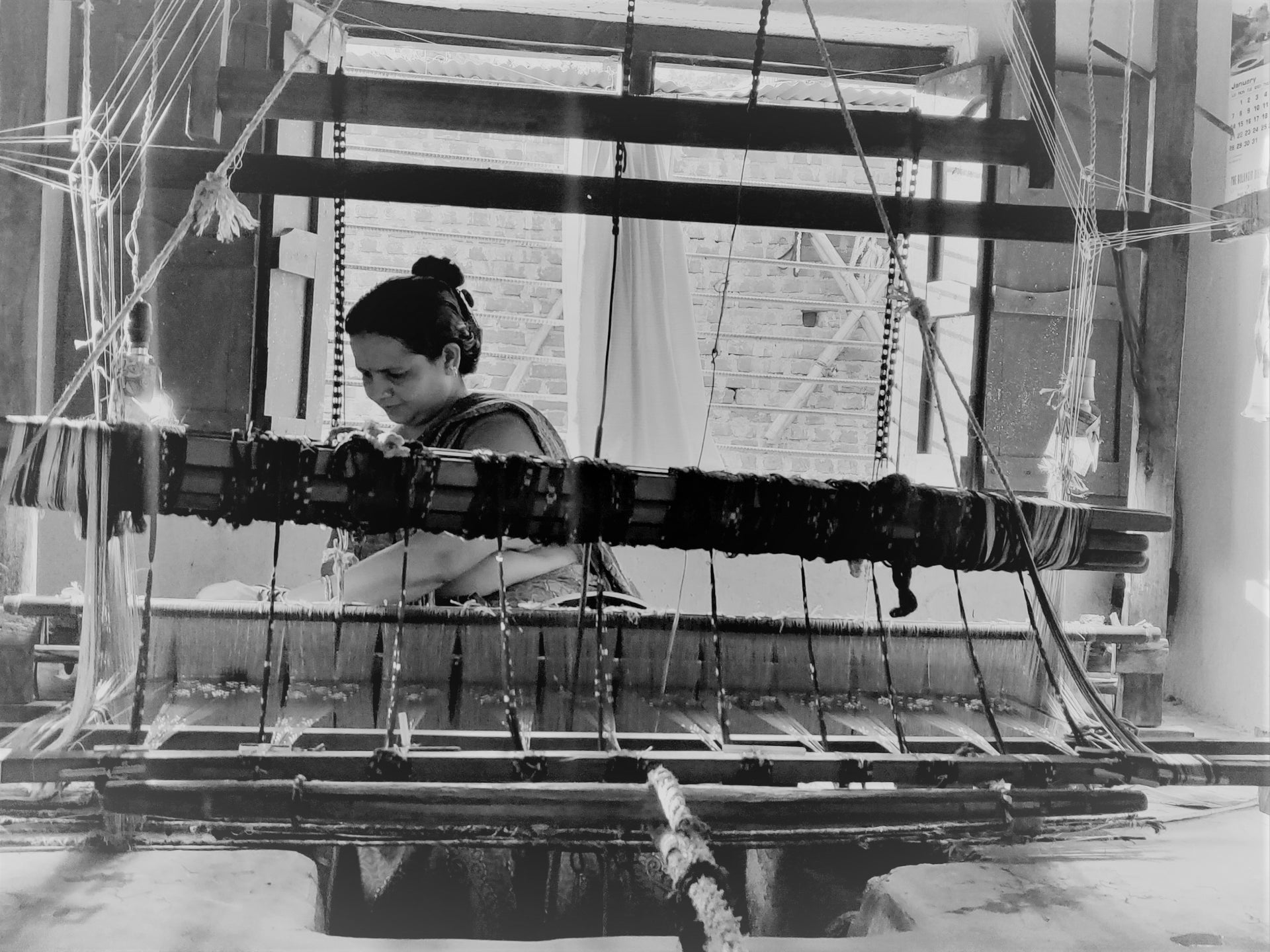 The handloom & handicraft sector is the second biggest employer in rural India after agriculture. A huge industry of handmade booms in local rural & urban markets across the country. The handloom sector requires few resources and the entire process of creating a handmade fabric has a very low carbon footprint. Most raw materials are sourced from nature and the use of electric machines is almost nil. It is small scale and involves both men and women in producing the textile, which teaches self-reliance, sufficiency and symbolic resistance to mass- produce. A meter of handwoven fabric requires an inter-dependency between the farmer, ginners, spinners, dyers, carpenters, weavers, and many more people. This dependency is not hierarchical but cohesive, not self-centered but a mutual interest in survival. It's a celebration of weaving lives together.
Thus, when we first came across Odisha and its beautiful handwoven fabrics, 12 years back, there was an instant connection. Vriksh was born as a modest initiative to bring back to life some of the dying weaves of Odisha and contemporize the traditional handlooms for the modern Indian market making sure the cultural significance remains intact. For us, threads, shades, motifs and patterns on fabrics aren't merely elements of design, they are the living exhibits that offer you a glimpse into the lives of the people of Odisha and their culture. At Vriksh, every piece we create is a seamless amalgamation of the new and the old, it possesses a unique character that is purely grounded yet supremely elegant.
What bonds us to our weavers?
Vriksh's early years in Odisha with one of the world's oldest and greatest traditions of weaving have left a huge impact on our work. We tried to stay away from just handing over sheets of papers to weavers to get the jobs done, instead we built an egalitarian partnership with them in the design process. The weavers have been our guides, teaching us the science of handloom, its techniques, the cultural significance of the motifs and colours. The weavers' experiences, knowledge and wisdom on the beautiful tradition of weaving have been the underlying strength of each Vriksh collection.
We work with handloom weavers who are masters of their art offering new innovations to the traditional designs while retaining the cultural significance associated with this living tradition. Over the years, our weavers have won several state and national level awards for innovation in the handloom sector. Since 2012 onwards, on many Vriksh sarees, our weavers have bagged several Odisha State Handloom Awards for Best Design and Weave and were also the recipients of the Government of India's prestigious National Awards for Excellence in Handloom weaving.
What makes odisha weaves so special?
Odisha is a goldmine of textiles and it may take a lifetime to discover all the hidden treasures in handlooms. Even today, almost each and every district in Odisha offers exquisite and unique textiles from fine tussar silks of the coastal belt, curvilinear ikats from the west, tribal weaves and natural dyes of the south etc. One can never get enough of it. Take for example, the exquisite hand woven tapestry weaves which we found only two weavers left in Odisha who have the rare knowledge of weaving them. Vriksh has been on a quest to revive some of these dying and rarest weaves of Odisha — now in the form of tussar, silk and cotton saris which are extremely rare, sensuous and comfortable to wear with motifs of fishes, butterflies, lotus flowers and mythical animals adorning the pallu.
Another such weave is that of the Bomkai saree, beautiful thick cotton sarees having extra weft designs which are inspired by the elements of the local environment. Today, only four weavers are left in the village of Bomkai who still weave this beautiful fabric. Our collective efforts of reviving this rare weave were awarded by the Delhi Crafts Council and the Crafts Council of India, Chennai when our weavers were presented with the Sutrakar Samman for Excellence in Bomkai Weaving 2015 and the Shanta Prasad Award 2017 for Excellence in Weaving respectively.
Since the past two years, Vriksh studio has been representing India with its innovative natural dyed Ikat textiles at the international 'World Ikat Textile Symposium & Exhibition' which carries the theme 'Ties that Bind' held in London, India, Malaysia, Thailand and Indonesia. Vriksh has also displayed its textile works in California, New York, Singapore and multiple locations in India.
Why Sarees?
A saree does not judge a woman by her body type. At Vriksh, we constantly try to break the notion that a saree is a restrictive garment. After all, for centuries we have witnessed women performing all sorts of activities in a saree– mothering her child, ploughing in the field or practicing dance. It is as much traditional as it is fashionable. A woman can make a personal statement by the way she drapes it or tucks it or pins it. How a saree is worn should be a sign of women asserting their individuality and not conforming to restrictive traditions. It is a garment that is a unifying feature despite the variations in its wearing style in different parts of India. The saree is the only garment in India that still retains the value of an heirloom that will never die. Thus there is a deep involvement and a complete sense of identity of the Indian woman with the saree.
Vriksh Founder, Designer - Gunjan Jain
Like most fashion school graduates, Gunjan started her career in the apparel export industry. But disillusioned with the industrial process of making clothes, she moved to Odisha where she set up her design studio Vriksh in 2008. Twelve years that followed took Gunjan into the inner precincts of the land, interacting and learning at every step. A journey where she lost herself inside the villages and towns of Odisha, only to resurrect the dying and rare weaves to greater glory. More than a decade has passed but her fire to explore, revive and reinterpret the heritage weaves of Odisha is still blazing fresh. The aesthetics are classical but the execution is contemporary. Gunjan was awarded the 'Vogue India Fashion Fund for Designer of the Year' under the saree category in 2016. For Gunjan, Vriksh has been a discovery of herself, her art and of the weaves of Odisha.